Déjà vu Switzerland has joined Innocence in Danger
Déjà Vu Switzerland has joined the committee of Innocence in Danger Switzerland. IED is a worldwide movement for the protection of children against all forms of violence, especially sexual violence. The organization is present in many countries and partners with international associations active in the fight against pedo-crime.
On Thursday, September 16, 2021, come and support the actions of IED Switzerland, which focuses its efforts on the emotional reconstruction of victims through its resilience stays. The association provides a network of lawyers and therapists free of charge and fights tenaciously for the implementation of online protection tools better adapted to the risks incurred by minors in Switzerland.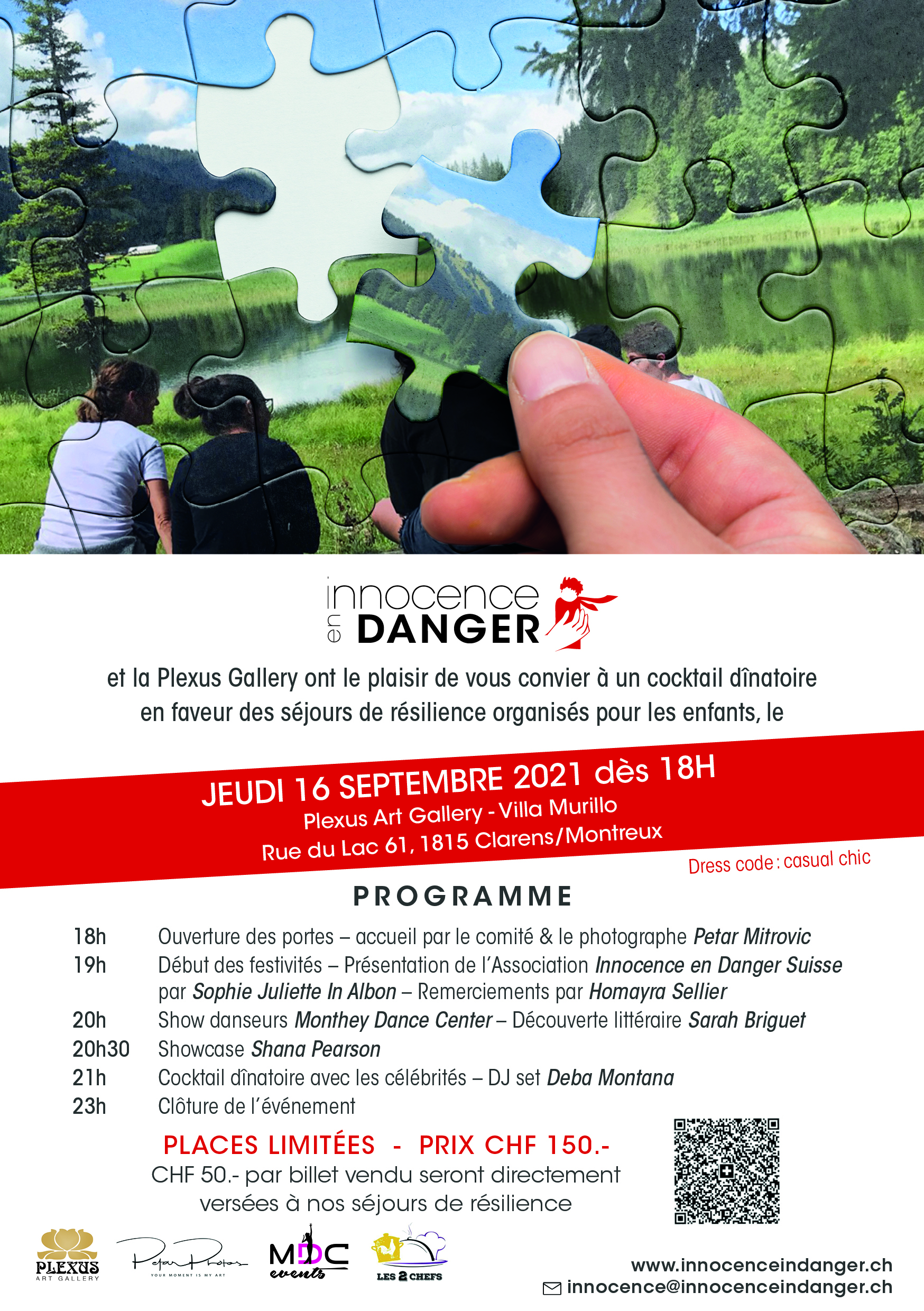 Come and support the Cocktail Party on 16.09.2021
Attend the
Cocktail Reception on 09/16/2021
hosted at
the Plexus Art Gallerie -Villa Murillo - Clarens.
.
A festive evening with DJ set Deba Montana, dancers show and showcase
. In the presence of
ex-Miss Switzerland Sarah Briguet and photographer Petar Mitrovic.

Download the invitation


Purchase my ticket
A word about the President
In 1998, Mrs. Homayra Sellier was appointed by the director of UNESCO as president of the "World Movement for the Protection of Children" and was in charge of leading a global action plan for the defense and protection of children, set up after the dismantling of an international child exploitation network on the Internet. This was the birth of Innocence in Danger.
After a year of fruitful collaboration, Homayra founded her own organization. Ms. Sellier had to go to the field, meet the victims and their families and carry out concrete work.
Personalities such as Karl Zéro, Gad Elmaleh support this association with extraordinary actions.

Warning: Use of undefined constant php - assumed 'php' (this will throw an Error in a future version of PHP) in /home/clients/f346a47de1df844a8ed4899ab7564581/web/wp-content/themes/wr-home/page.php on line 82